Kyani & Co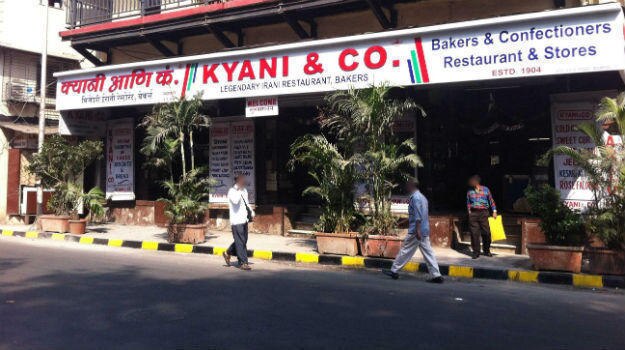 Established in 1904, this is one of the oldest Iranian Cafes in the city. The ambience and the experience keeps the Iranian charm alive and the food is absolutely authentic and delicious. You cannot miss the Irani Chai with Khari. You should also try the Cheese Scrambled Eggs, Kheema, Chicken puff, Mawa Cake and Caramel Custard.
Where: Opposite Metro Cinema, Marine Lines
Cost For 2: Approx ₹ 300
Britannia & Co
Since 1923 they have been casting their spell on the passionate patrons. The service is quick, food is tasty and the ambience is totally Irani. You must have their elaichi-laden Irani chai and delicious bun maska. You should try Mutton/Chicken Berry Pulav, Veg Dhansak, Sali Boti & Caramel Custard.
Where: 11 Sprott Road, Ballard Estate, Opposite New Customs House, Fort
Cost For 2: Approx ₹ 600
Sassanian Boulangerie
This 100+ year old joint continues to serve its customers the Iranian treats. The Chicken Farcha, Dhansak, Salli Chicken and Roasted Chicken make the visit worthwhile. They also offer a variety of baked products and desserts like the plum cakes and mawa cake. After serving the authentic Iranian cuisine for so long, they have now also expanded into Chinese and Sizzlers.
Where: 98, Marine View, Dhobi Talao, Marine Lines
Cost For 2: Approx ₹ 300-400
 Yazdani Bakery
This is probably the only traditional Iranian bakery left in the city. Their morning tea along with bun maska, mawa cake or vegetable puff will leave you satiated for the entire day. However, you must not leave without possibly the best Apple Pie ever.
Where: Fountain Akbar Ally, Saint Thomas Cathedral, Fort, Mumbai
Cost For 2: Approx ₹ 200
Ideal Corner
Established in 1985, the ambience at Ideal is more modern and posh compared to the others. Given the location, it attracts a lot of people through the day. You must try the Mutton Dhansak, Mutton Salli Boti, Prawns Curry Rice and ofcourse do not miss the yummy Bread Pudding.
Where:  12 F/G, Hornby View, Gunbow Street, Fort, Mumbai
Cost For 2: Approx ₹ 400
Jimmy Boy
A simple, elegant, old world setting puts you in the mood to enjoy the delicious meal you are bound to get at Jimmy Boy. The price, however, may seem overpriced in the beginning but more often than not this opinion changes once the food is served. The must haves include: Salli Par Eedu, Chicken Dhansak, Chicken Jardaloo, Patra Ni Macchhi, Berry Pulav.
Where: Vikas Building, 11 Bank Street, Off Horniman Circle, Fort
Cost For 2: Approx ₹ 700-800
Cafe Military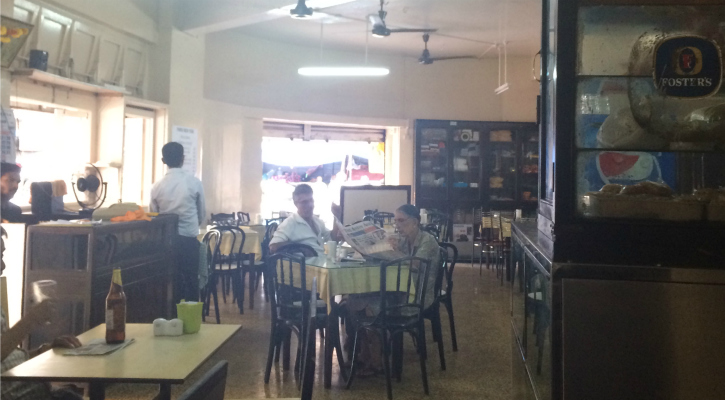 Even though the ambience is very Iranian, it does come with a modern touch. The uniqueness comes in the form of chilled beer along with the delicious food. You must try the Chicken Biryani, Kheema Sali and the Caramel Custard.
Where: Ali Chamber, Tamarind Lane, Fort
Cost For 2: Approx ₹ 200