Best NightClubs in Mumbai
We just can't deny how Mumbai is the hub for the best nightclubs as the party never stops here. It's high time that you take a break from work and take your friends for a night out at one of these exciting clubs. They've got it all from an amazing dance floor to mesmerizing cocktails to set you in the mood. What are you waiting for? Get ready for some crazy music and dancing sessions as you're partying in the city that never sleeps!
Trilogy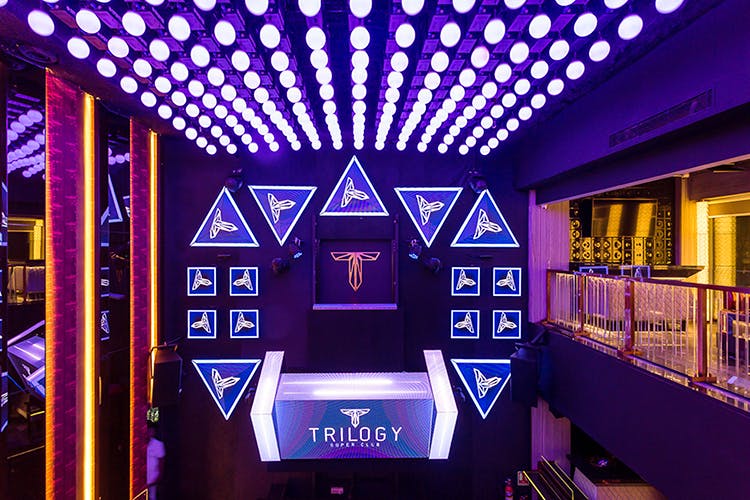 Experience one of the best clubs in Mumbai with luxurious indulgence and sought after privileges designed just for you. It is also the best corporate party venue in Mumbai. Trilogy offers the perfect ambiance for just about everything that defines nightlife indulgence – right from being a world class pub to a high-flying club that always promises a great time. Set amidst the bustling city of Mumbai with a backdrop of the Arabian Sea, Trilogy is definitely the discotheque to be spotted at.
COST FOR TWO: Rs. 3500
CUISINE: Finger food, Chinese
TIMINGS: 10:30 am to 3 am
WHERE: Hotel Sea Princess, Juhu Tara Road, Juhu, Mumbai
Tote on the Turf
Mid-week Lunch? Hardcore drinking weekend session or anything you're looking for, Tote on the turf will give you that with its warm wooden decor, great bar food and energizing buzz. On the weekdays, it is a place where people can come for a small chit-chat session, which is perfect for a day like Valentine's Day that falls on the weekday this year. While on the weekend, this chocolate-colored space becomes party central.
COST FOR TWO: Rs. 1800
CUISINE: North Indian
TIMINGS: 12 pm to 3 pm, 7 pm to 12 am
WHERE: Gate No. 5 & 6, Mahalaxmi Race Course, Mumbai, Maharashtra 400034
Escobar- Tapas Bar
Calling all the party animals as this one is the place to be at on your weekend. An amazingly big dance floor with a huge bar is all you need to have your Saturday night sorted. Give yourself a break from work and take your friends for an exciting night.
COST FOR TWO: ₹2500
CUISINE: Italian, Mexican, Spanish
MUST-HAVES: Falafel, Lasagne, Pizza, Long Island Iced Tea, Tiramisu, Sushi, Chocolate Mudpie
Address: 4th Floor, VN Sphere, Turner And Linking Road, Linking Road, Bandra, Linking Road, Bandra West
R' ADDA
This lounge is located very close to the Juhu Beach. The place is located on the top floor of the building. Once you enter, there is a fully stocked bar on your left and the lounge area for dancing on the front. The tables have wooden furnishings all around. The lounge has quirky quotes on the walls with some color popping. The sheesha here is supposed to be really good. This place is always overly crowded because people love coming here. Do try their Thai Basil Chicken, chili chicken fry and don't forget sipping on their cocktails especially "safe sex on the beach".
COST FOR TWO: Rs. 1200
Cuisine: Fast Food, Mexican, Burger, Pizza, Indian
TIMINGS: 8 pm to 3 am
WHERE: Ramee Guestline Hotel, 462, A B Nair Road, Juhu, Mumbai
Matahaari
It is truly the best nightlife spot, South Mumbai has to offer. Enter Matahaari and you'll love the luxurious and welcoming ambiance it has to offer. Stellar interiors, eloquent decor and a classy way of parting, Matahaari shows you all. The food and cocktails are equally stellar. Matahaari's brilliance is really in its extravagance. It is literally like stepping into the chambers of the Dutch spy – Matahari.
COST FOR TWO: Rs. 3000
CUISINE: Asian, Finger food
TIMINGS: 10 pm to 1:30 am
WHERE: Level IV, Doctor Annie Besant Road, Lotus Colony, Worli, Mumbai, Maharashtra 400018
Article Source: MagicPin
All images are copyright of their respective owners.