Mumbai is Upgrading to the NextGen Transport System
Mumbai Metro is considered to be the NextGen Transport System in India falling under the category of Rapid Transport System, Mumbai being the financial capital of the country means a lot of people are migrating to the Island work purposes more the people tougher it gets transporting them every day, with the existing transport means like the Bus & Railways running at their full capacity. It was time the Government resorted to different modes of transport. 
Mumbai Metro is running successfully in Mumbai with its Line-1 since  8 June 2014, so now the government is taking steps to connect the whole city with Metro for easier and faster connectivity with the hope of reducing the load on road and rail traffic.
Lets us look below the Metro Routes that are planned within the city.
Metro Line – 1   | Versova – Ghatkopar ( Operational )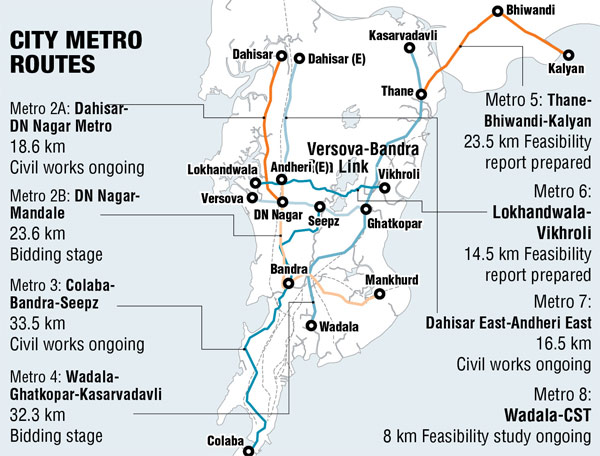 Line 1 connects Versova in the Western Suburbs to Ghatkopar in the Central Suburbs, covering a distance of 11.4 kilometres  It is fully elevated, and consists of 12 stations. Work on the Versova-Andheri-Ghatkopar corridor, a part of Phase I, began on 8 February 2008. A crucial bridge on the project was completed at the end of 2012. The line opened for service on 8 June 2014.
Metro Line -2  | 

Dahisar (East)

 to 

D.N. Nagar
This corridor is being executed in two phases i.e. 2A and 2B. The 18 km long 2A corridor is being executed by DMRC on behalf of MMRDA. The corridor has 17 stations (Dahisar (East) to D.N. Nagar) and is expected to cost ₹64.1 billion (US$981.76 million).
Its civil works, including viaduct and stations, are being executed by J.Kumar Infraprojects. The corridor is expected to be operational in 2019.
The 2B corridor will be 23 km (14.691 mi) long and is estimated to cost ₹109.7 billion (US$1.68 billion), including land acquisition cost of ₹12.74 billion (US$195.13 million). This section will have 22 stations (D.N. Nagar to Mandale), work on which is expected to begin in mid-2018.
Line 2 is being partially funded through multilateral debt to the tune of ₹74.98 billion (US$1.15 billion) from Asian Development Bank.
Metro Line -3  | Cuffe Parade – Seepz
This corridor is almost entirely built underground, and is 33.50 km (20.82 mi) long, with 27 stations. The metro line will connect the Cuffe Parade business district in the south of Mumbai with SEEPZ and Aarey in the north.It will also pass through the Domestic and International airports of Mumbai, for which the airport operator (GVK) has promised an equity infusion of ₹7.77 billion (equivalent to ₹8.3 billion or US$127.86 million in 2017).
The cost of this corridor is estimated at ₹231.36 billion (US$3.54 billion).The original deadline for the project was 2016, but it is currently expected to be completed only in 2022.
Upon completion, it will have interchanges with the planned Line 6 at SEEPZ, Line 1 at Marol Naka, Line 2 at BKC, Central Line at Chhatrapati Shivaji Terminus, Mumbai Monorail at Mahalaxmi (Jacob Circle), and Western Line at Mahalaxmi, Mumbai Central, and Churchgate.
 Metro Line – 4 | Wadala – Thane
The line 4 of Mumbai Metro is envisaged to be a 32.32 km (20.08 mi) long elevated corridor, covering 32 stations from Kasarvadavali (near Thane) in the north to Wadala in the south. It is estimated to cost ₹145.49 billion (US$2.23 billion). This project will help connect the city of Thane with Mumbai with an alternate mode of public transport.
The line was approved by the Maharashtra government on 27 September 2016, and construction is expected to begin in mid-2018.
The construction of viaducts and stations will be exected by the consortium of Reliance-Astaldi JV and Tata Projects-CHEC JV.
The Asian Infrastructure Investment Bank has extended a multilateral loan of ₹39.16 billion (US$599.77 million) for this project and is expected to be completed by 2020.
Metro Line – 5  | Thane – Kalyan
The 24.9 km-long Thane-Bhiwandi-Kalyan Metro-V corridor will have 17 stations and will cost Rs. 8,416 crore. It will be totally an elevated corridor.It will connect Thane to Bhiwandi and Kalyan in the eastern suburbs. The stations include Kapurbawdi in Thane (West), Balkum Naka, Kasheli, Kalher, Purna, Anjur Phata, Dhamankar Naka, Bhiwandi, Gopal Nagar, Temghar, Rajnouli Village, Govegaon MIDC, Kongaon, Durgadi Fort, Sahajanand Chowk, Kalyan railway station and Kalyan APMC.
The line was approved by Chief Minister Fadnavis on 19 October 2016.The MMRDA plans to begin construction of the line by December 2017.It will be ready by 2021-22.
The article will be continued in the next part giving you a better insight of next 5 Metro Proposed Lines in the City of Mumbai.
The article is compiled from data available on the internet, All images are copyright of their respective owners.